How do the Insights in StepsApp work?
If you like statistics and evaluations of your fitness activities as much as we do, then the Insights are just right for you. Evaluate your activities and improve your health by training even better.
Insights is still a relatively new feature in StepsApp and was developed on the basis of unwanted. The goal was to break down the statistics in a new way and to expand them in an innovative way. Trends, Totals and Records are now combined in one menu item and form the basis of Insights. In addition, users can also use Streaks to increase their motivation for regular exercise.
What do Insights in StepsApp include?
Insights is divided into MY DAY, STREAKS, TRENDS, AVERAGE DAY, TOTALS and RECORDS. In each of these independent statistics you can switch between Steps, Calories, Distance, Duration and Floors. For Trends, Average Week and Records you can also display details. So you really have a comprehensive tool in StepsApp to evaluate your steps down to the smallest detail.
My Day
The feature shows you how many steps you have already taken today compared to the previous day or optionally to the average for this day of the week. And this is displayed in the course of the day according to time. You can also choose between calories, distance, etc. as with all other features.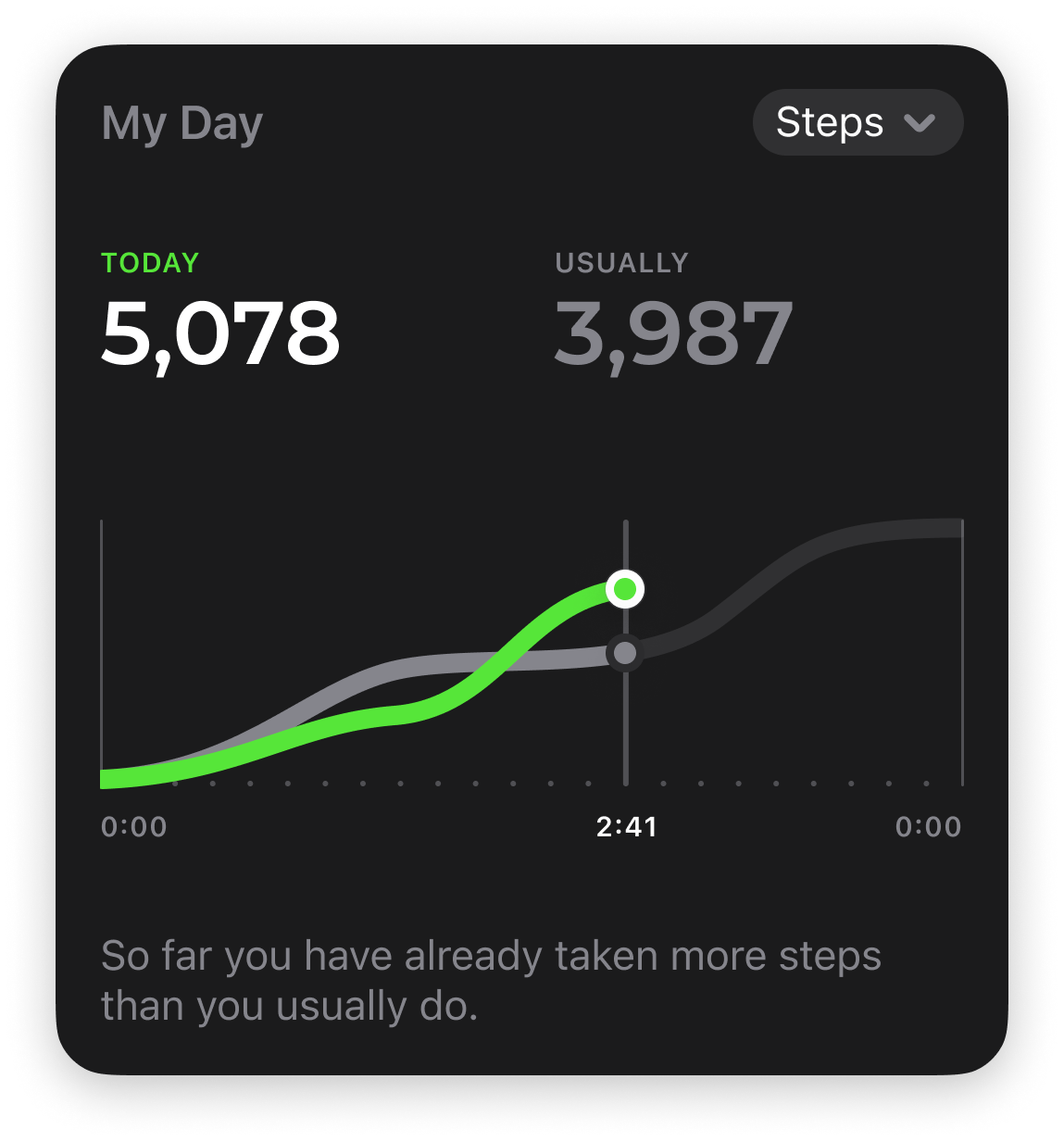 Streaks
This is a new and innovative feature that motivates you to keep moving. You can see how many times you have reached a certain goal in a row.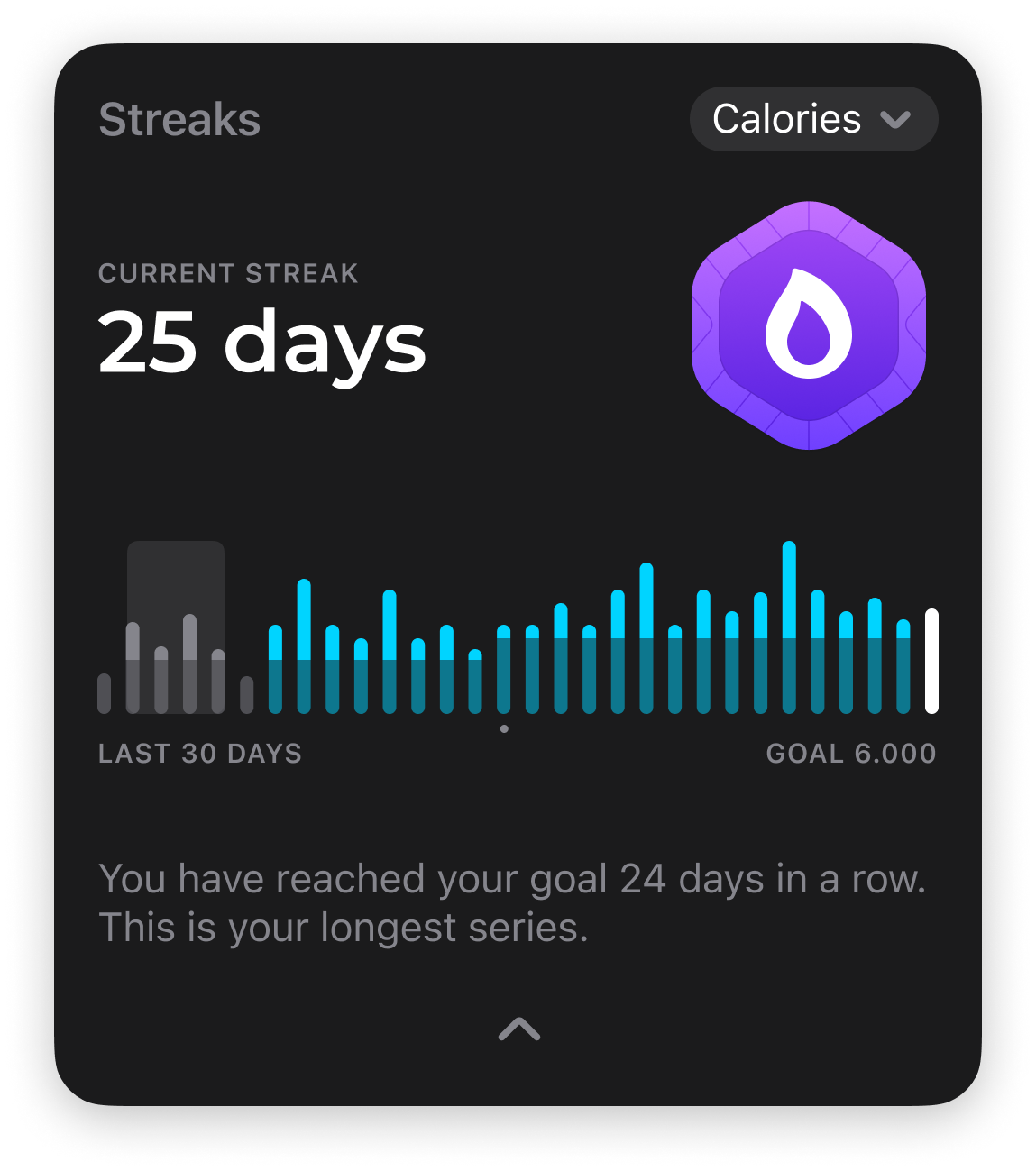 Trends
The trends show you how many steps, calories, etc. you have already taken this week, month, year compared to the previous one. In the graph you can also see a good comparison in numbers. If you fold down the graph, you can see details like Distance, Duration, etc. in direct numerical comparison to the previous period.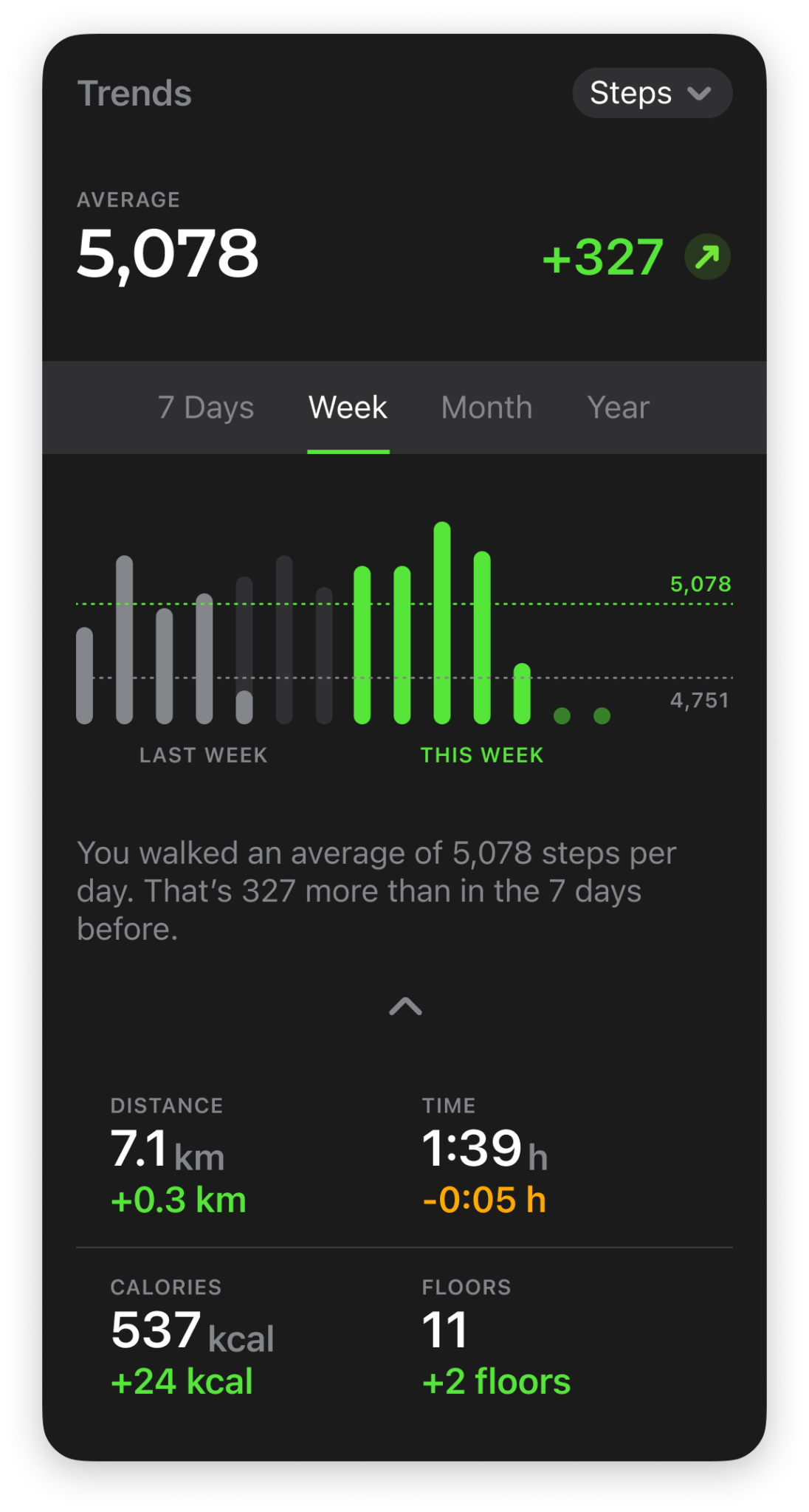 Average Week
If you want to know at which times you are particularly active, then take a look at the Averages. Here you can see on which day of the week, day of the month, year, etc. you achieved your best results. Ideal to find out when you are very active. If you expand the graph here, you will see the total values of steps, hours, calories, etc.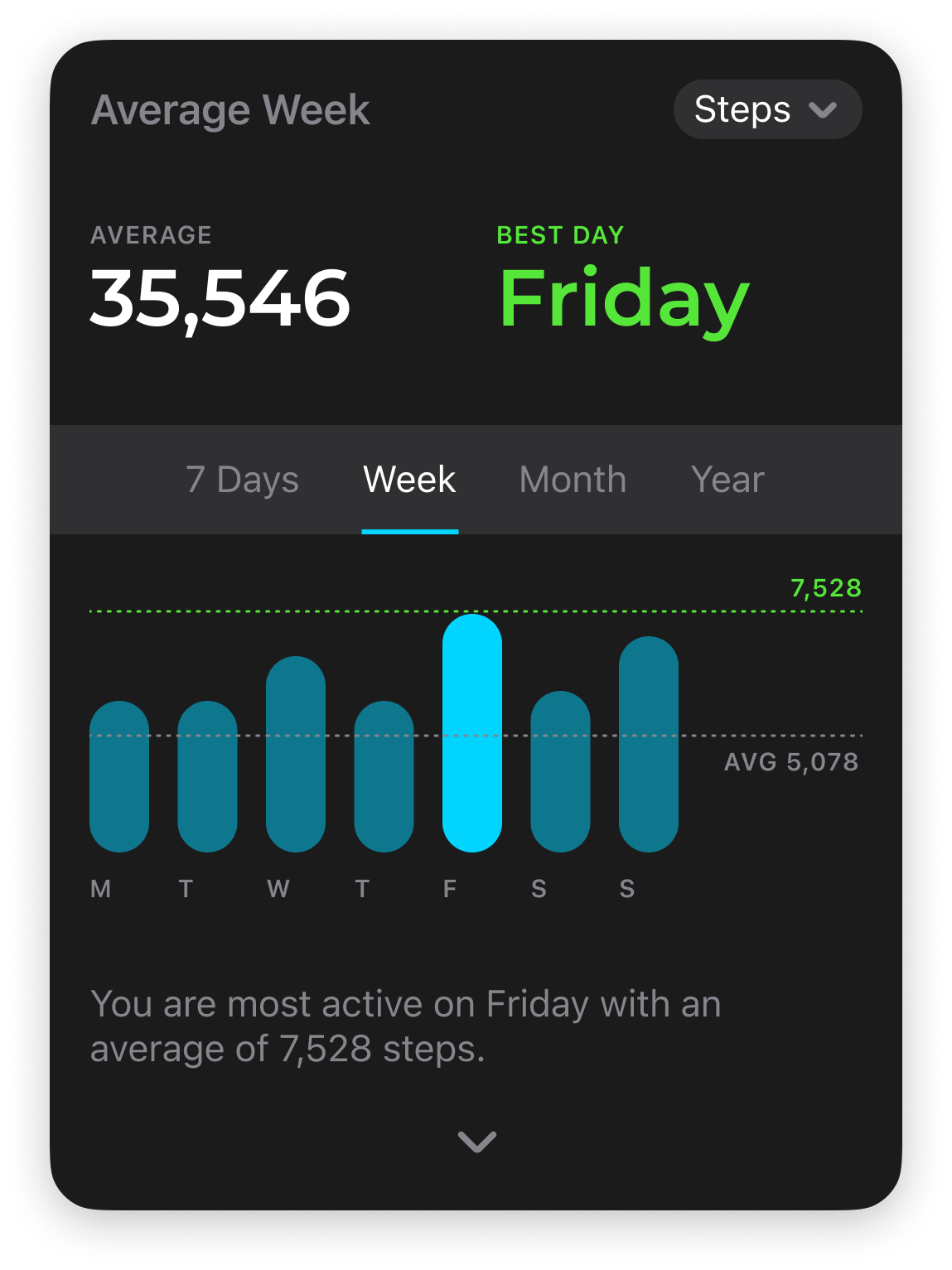 Totals
Many users have always wanted to see their totals. How many steps have you taken in a year? How many kilometers did you walk in a year or how many calories did you burn? Here you can see the yearly comparison and see how you have developed and when you were less active.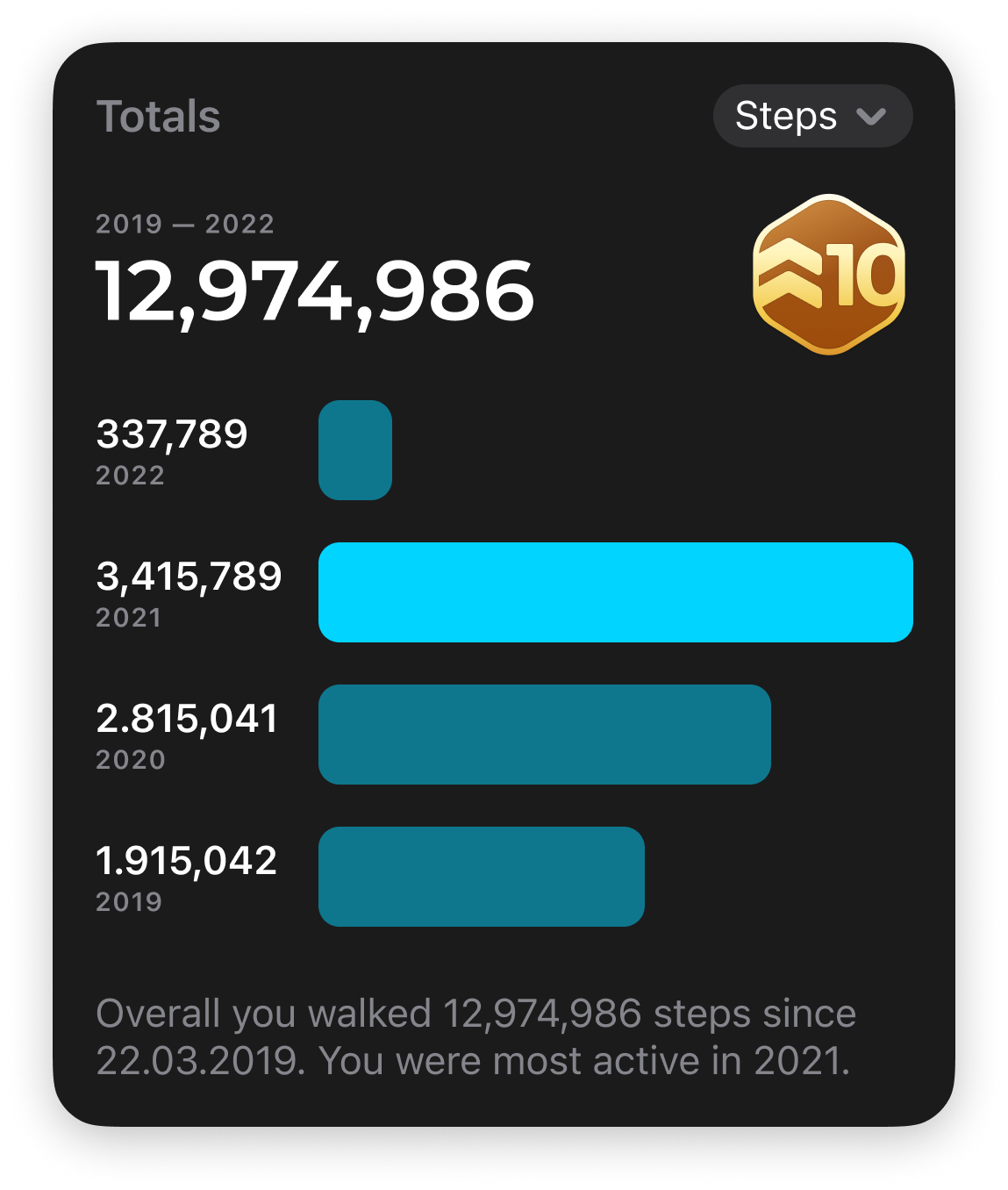 Records
For the most competitive among you, the records are ideal. See when you have set your personal records. This display is also expandable and shows you details about the individual values.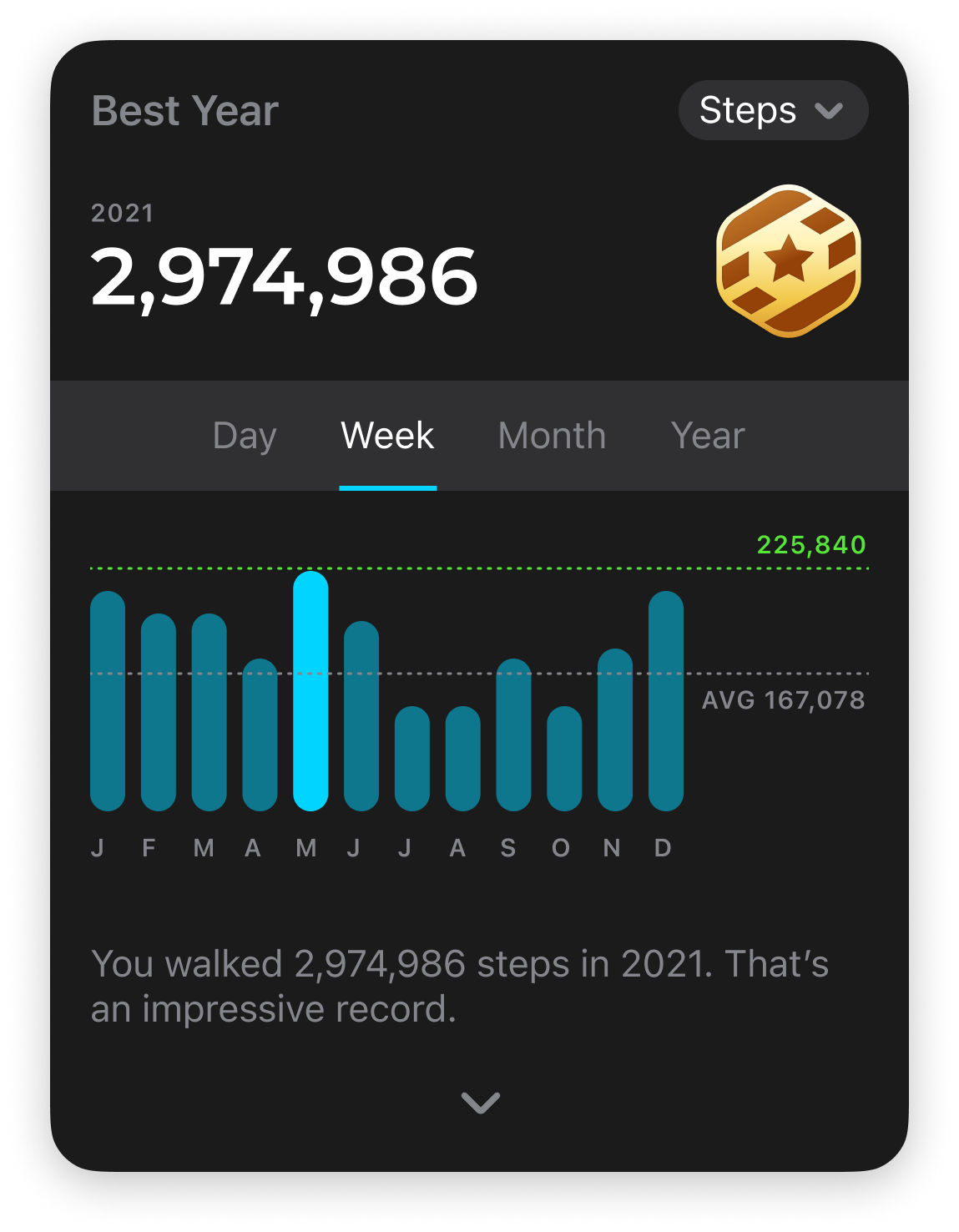 Practical use and application of the Insights in StepsApp.
Use the Insights in StepsApp to improve your performance and optimize your steps. Take a look at which days you are particularly active and set yourself a higher goal on these days, for example. This will make it easier for you to reach your goal, since you are already very active at these times.
Analyze your days in detail and identify times when you do less exercise. Ideally, you should divide your steps well throughout the day so that you don't have too long breaks in between. If you work in an office or have a sedentary job, for example, you can get up from your chair more often and stretch your legs.
Look at the trends of the week or month and compare the previous days, so you always have an eye on how well you are doing. The records and weekly averages should be a motivation for you to improve. If things don't go so well, that's not a big problem. Just set your goals a little lower and with Streaks you can try to reach the minimum goal as often as possible. This will motivate you to be active on a regular basis and when things are going better again, you can adjust your goals again.
Where do you find the Insights in StepsApp?
Open StepsApp
Go to Results
Switch between Insights and Awards

Free and Pro features of Insights in StepsApp.
The basic Insights features in StepsApp are free. If you are not a data junkie, this is quite enough. You can analyze steps under My Day without subscription. You can also see data from Average Day, Trends and Totals. If you want to use the full scope of Insights, then we offer the low-cost subscription for you. Just try it out.